San Antonio Flagstone Co.
Unique Patios, Walkways, Pool Decks, Fire Pits, Retaining Walls and More
Flagstone Patio San Antonio
Flagstones are hard, naturally occurring stones that are super durable, low-maintenance, and best for paving high-traffic areas, making them an excellent choice for pool decks, retaining walls, patios, fireplaces-pits, and walkways. They come in different colors, shapes, sizes, and textures, so you can create the look that best fits your home's style. In addition, a flagstone patio is not just more durable than a concrete or asphalt patio, but it also has a natural aesthetic that other materials can't replicate.
If flagstone patios sound like something you want for your next landscaping project, you've come to the right place. Here at San Antonio Flagstone Co., we offer a wide range of services, including designing and installing custom-made patios, remodeling existing ones, replacing concrete pool decks or asphalt paving, and selecting the best type of stone that fits within your budget. 
When the time comes for your next project, don't settle for anything less than what's best—trust our Flagstone Patio San Antonio Texas contractors!
Is Flagstone Good for a Patio?
Is flagstone good for a patio? It's a question we get asked all the time and one that deserves a detailed answer. After all, you're making an investment in your residential or commercial property—you want to make sure it's going to be perfect for decades to come.
A flagstone is an excellent option for patios, pathways, retaining walls, and walkways, and it's not just because it looks beautiful. The fact is that flagstone offers a lot of advantages over other types of patio materials. 
First, it's durable: flagstone lasts much longer than brick or concrete and can handle much foot traffic without cracking or chipping. Second, it's comfortable: flagstone has a natural grip, especially the rough textured variants, making it easy to walk on, even in wet weather. 
Third, it's easy to clean: simply hose down your patio regularly with water and a mild detergent to keep it looking fresh! Fourth, it's attractive: flagstone comes in all kinds of colors and patterns that can complement any home, office, or garden design idea you have in mind.
Lastly, there is a variety of flagstones or quarried stone options to choose from – quartzite, slate, sandstone, Arizona flagstone, travertine, basalt, and more. 
If you're considering using flagstone on your patio, we encourage you to call us today! We'd love to help you with all the details of your project and ensure it comes out exactly as you imagined.
Natural, Durable, and Reliable 
Flagstone landscaping rocks are the perfect way to bring a little bit of the outdoors into your home. They're durable, easy to maintain, and can be used in any area of the home—from patios and gardens to kitchen backsplashes and pool decks, to mention a few.
Some of the many reasons to choose flagstones include:
Low maintenance: Unlike other stones such as marble or granite, flagstones don't require frequent sealing or resealing. They're also less likely to chip or crack.
They have a natural look: Flagstones are an excellent choice if you want a natural look without sacrificing durability. Their unique texture makes them stand out from other materials like tile or wood floors, but it also gives them an earthy feel that adds warmth to any space.
They're versatile: You can use flagstones for almost any purpose—from outdoor fire pits to bathroom countertops to walkways and everything in between!
Long-Lasting. You can expect your flagstone patio or path to last for decades if installed correctly and maintained properly.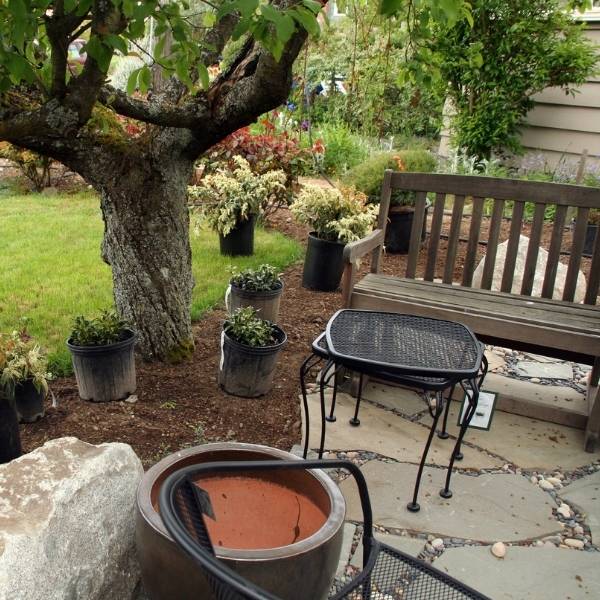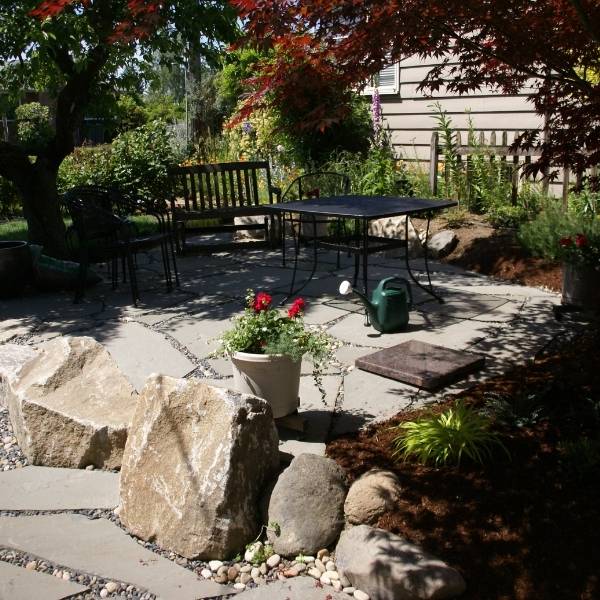 Our stones have been hand-selected by our team of experts and are sourced worldwide. We even have a few varieties that are exclusive to us. So whether you want to add some rustic flair to your home or office or want something beautiful to look at while you're relaxing under our sunloungers, we've got the skills and tools for the construction you need!
Prepping and Grading the Area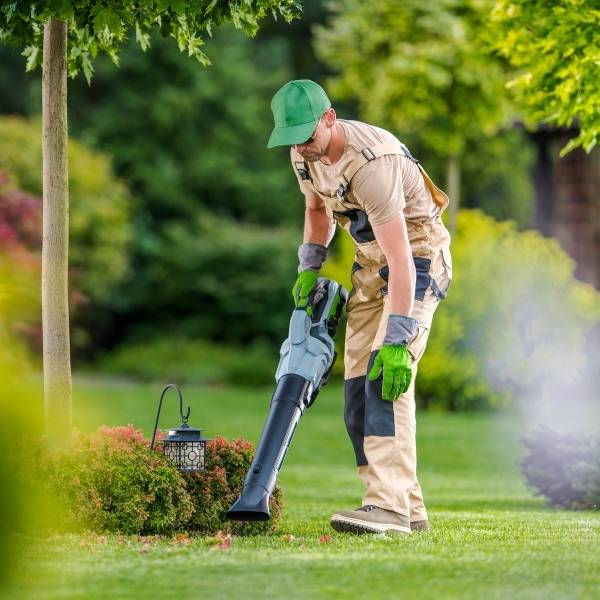 Before you start laying your flagstones, it's crucial to prepare the area properly. This process involves clearing the site, marking the area, excavating, and preparing the base.
Preparing and grading an area may not appear to be the most exciting part of any construction or landscaping project, however, it is the cornerstone of any successful one. Whether you are constructing a new home, installing a patio, or establishing a drainage system in your garden, it is essential to ensure the ground level is established and stable.
Proper preparation for flagstone installation, including creating a solid stone base and proper site grading, is crucial for a successful project. Remember, the key to a great flagstone installation is in the preparation. Take your time, do it right, and you'll be rewarded with a beautiful flagstone area that will last for years to come.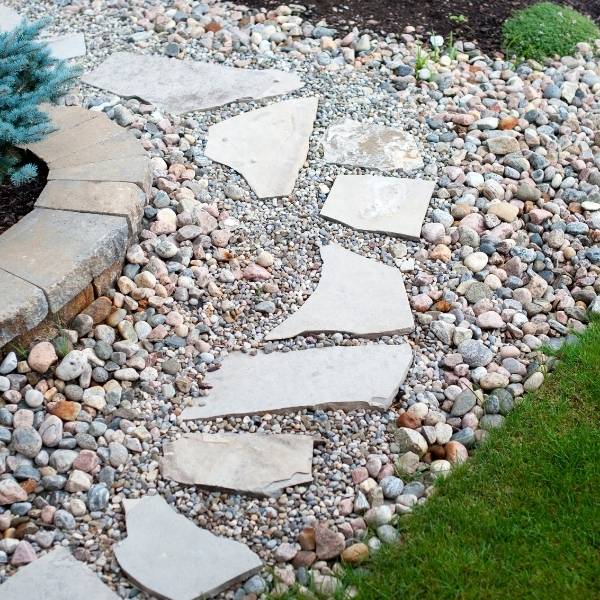 It's time to puzzle the flagstones together, but first, do you have a design in mind? If yes, that's great, but if not, we'll help you with that.
We'll start laying the first few stones by placing the larger ones on the outside of the patio's perimeter and the smaller ones on the inside to keep them locked in place towards the center. The stones come in different shapes – that's the fun part for us – we love puzzles and will put them together as best as possible to minimize cutting. 
A quick tip: the more significant the gaps between stones, the faster we're done and the lesser the cost to you. However, if you want something tighter and more consistent, we can do that too, although with more stone cuts and extra cost. Once the laying is done, leveling comes next, then gap filling with suitable material. Like that, you're set to enjoy your investment.
Gorgeous Gardens, Edging and Stepping Stones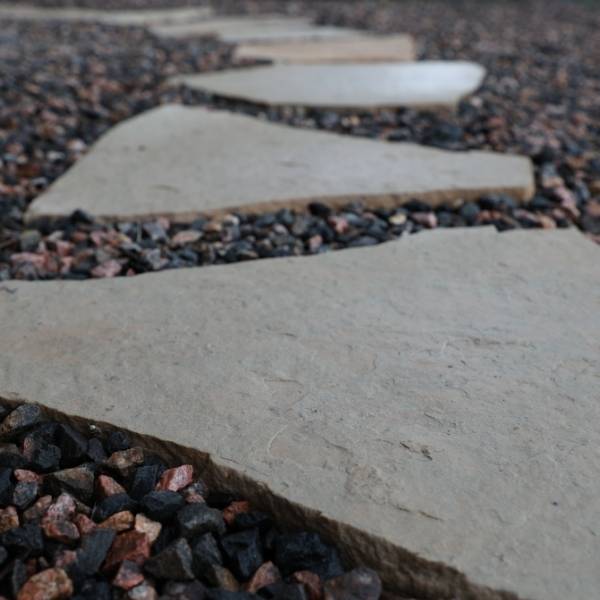 Want to build the perfect garden path to enhance your nature experience? Flagstones are the way to go. They're perfect for creating a rustic look and feel that will have everyone talking about your gorgeous backyard garden. 
We can also help you add some countryside flair in there with classic stone edging for flowerbed framing or help guide visitors around the pathways and perimeter of your garden to keep them from walking on or damaging its plants. We offer a variety of sizes and colors that will match any garden or landscape design.
Perhaps you want a cottage-style garden path; our experts can install irregular flagstones at an even more affordable price point. We get to lay fewer stones than would be needed for a traditional path and still cover the same space. Apart from affordability, steppingstones made from flagstones are more adventurous and whimsical.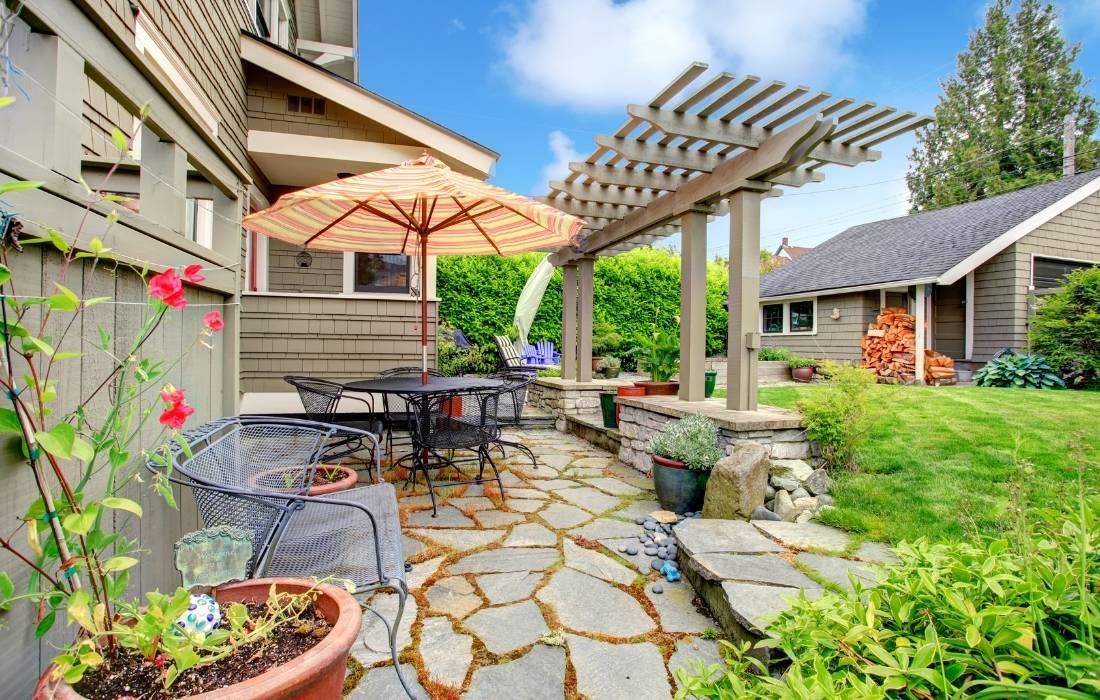 San Antonio's Flagstone Patio & Pool Decking Professionals
We offer the best in quality, craftsmanship, and customer service when it comes to pool decks and patio flagstones in the San Antonio Tx area.
What all do y'all fellas do?
What do we do? We're the people who make your yard look like a castle! We do flagstone driveway installation, pool decks, retaining walls, fire pits, and patios, and we're proud to say that our customers are some of the most satisfied in Tx. If you also need patio repair or flagstone maintenance, we've got you covered.
What areas of town do you serve?
We serve the whole city of San Antonio, Texas: from Leon Valley to Converse to Helotes to Castle Hills to The Alamo Mission area and everything in between!
What materials can we choose from?
The answer to that is a resounding yes! If you're looking for a low-maintenance and long-lasting patio, walkway, pool deck, or paving option, then flagstone may be the right choice for you. It is much more durable than stamped concrete.
Okay, Okay. What's this gonna cost me?
Well, we'll tell you—it depends!
It depends on the size of your hardscaping project, the extent of the job, and what kind of flagstones you have chosen. We do a free estimate for every job so that we can meet with you at your house and give you an idea of what it would cost to install or restore your patio, driveway, and more.
Any Guarantee or Warranty?
We are proud of all the work we do, and we will stand behind our work. If you have any issues with your flagstone installation, don't hesitate to contact us, and we will do everything we can to fix it.
Reach Out for a Free Estimate
Are you looking for the best flagstone ideas? You've come to the right place!
We are a trusted Flagstone Company that has been helping homeowners build stunning patios, walkways, and pathways for several years. We have different options to accommodate your budget and needs—from knock-down to natural cut stone—and we help you find the right style for your home, whether it's a traditional or contemporary look.
Our pavers-stone are designed to withstand the elements, so you can rest easy knowing your investment will last a long time. Also, we'll ensure that your project doesn't disrupt your busy schedule—we've got the fastest installation times in town!
We offer free estimates on all projects – commercial or residential paving services. So, give us a call today at (210) 985-9917 or fill out our contact form.